World Class Vanadium Deposits
By Desmond McMahon – Exclusive to Vanadium Investing News
Vanadium is widely distributed in nature, but not found in its metallic form. Instead it occurs in as many as 152 different minerals and fossil fuel deposits, like crude oil, coal, or tar sands. Both burning fossil fuels and processing the mineral combinations produces vanadium as a by-product, but rarely in economically viable concentrations.
Never found in pure shale, vanadium accounts for about 0.02% percent of the Earth's resources, estimated to exceed 63 million tonnes. Those numbers suggest vanadium is more abundant than copper, zinc, nickel and chromium, which would rank vanadium as the 13th most-abundant element in the Earth's crust. According to the US Geological Service, China, South Africa and Russia accounted for 98 percent of the world's production of commercial vanadium in 2009, which topped 54,000 tonnes. With demand for the element expected to increase, mining companies are exploring potential sites and Australia is poised to become a world leader. Exploration sites in the United States, Canada, and Central and South America also show promise. But, despite all the searching, finding a commercially viable deposit is still rare, finding a world class deposit is ever rarer.
Mining Vanadium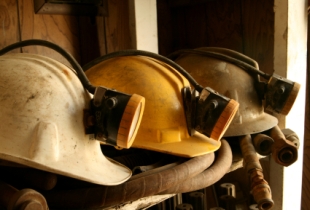 Although vanadium occurs in a number of elements, it is largely produced commercially as a by-product, or a co-product, of other metals with the vast majority of commercially mined vanadium coming from the processing of various iron ores or uranium. Uranium ore often produces vanadium as a by-product after the uranium has been removed. And, magnetite ores have been known to contain a high percentage of vanadium in their slag.
But, because vanadium is not recovered and extracted from one unique mineral source, there are different methods used to separate the elements. Most produce vanadium pentoxide, which is then reduced with carbon and calcium to produce metallic vanadium.
As a general rule, if the oxidized minerals contain a high grade of vanadium, a roasting process with sodium chloride can be employed to produce extract the vanadium pentoxide. This process also works with a sulphide ore containing a high vanadium content. Lower grade ores require a more complicated process involving pyrometallurgical and hydrometallurgical operations.
Heating ore containing vanadium with sodium chloride or sodium carbonate at approximately 900°C produces sodium vanadate, which is dissolved in water and then acidified and melted to form vanadium pentoxide
Alkaline fusion can also be used to dissolve vanadates, which are oxygen compounds containing vanadium. Then, with several additional steps, the vanadates are processed into vanadium pentoxide.
The Deposits
Vanadium occurs in deposits of titaniferous magnetite, phosphate rock, and uraniferous sandstone and siltstone, in which it constitutes less than 2 percent of the host rock. While China, Russia and South Africa all have significant vanadium resources that are currently in production Australia is poised to become a world leader and other vanadium deposits including those in Peru, Australia,  Nevada, Colorado and Utah, all have commercial potential.
Titaniferous Magnetite
Titaniferous magnetite deposits can be found around the world in basic igneous rock and in some metamorphic rock. The deposits occur as tubular or irregular shaded bodies or seams and vein-like areas or in layers. Titanium is usually mined with vanadium, which composes between 0.1 and 2 percent of the resource.
Some tifaniferous magnetite deposits can be found in the Bushbeld Complex in South Africa, Sept-Iles, Quebec and the McClure Mountain Complex, Colorado.
Phosphate Rock
Phosphate rock is used widely to produce commercial fertilizers and vanadium is one of a number of by-products. China, the United States and Morocco are the world's largest miners of phosphate rock; each produces about a quarter of the total world production.
Phosphate is readily found around the world, though high-grade sources are declining, but it is not a major source of commercial vanadium.
Uraniferous Sandstone and Siltstone
Sandstone and siltstone uranium deposits also contain between 0.1 and 2 percent vanadium. Sandstone is medium to coarse-grained sedimentary rock, often deposited in a continental fluvial or marginal marine sedimentary environment. Siltstone is a sedimentary rock, which has a grain size in the silt range, and is finer than sandstone.
The primary US source of vanadium is the uraniferous sandstone in the Colorado Plateau, where the sandstone is primarily mined for uranium, but vanadium forms part of more than 40 minerals in the plateau's ores, including amounts of vanadium silicates and oxide-vanadates, which are created as a by-product of extracting the uranium.
Kazakhstan, Uzbekistan, Gabon, and South Africa also have large uraniferous sandstone deposits.
Examples of World Class Deposits
The Windimurra Vanadium Project in Western Australia is operated by Mineral Resources Ltd (ASX:MIN) and Atlantic Ltd (ASX:ATI). Once completed, the mine is forecast to produce about 7 percent of the world's vanadium supply.
Kachkanar GOK is located in the Ural Mountains, Russia and operated by Evraz Group (LON:EVR). The mine processes 40 million tonnes of ore per year and is a leading vanadium producer.
Panzhihua mining area has a cumulative average grade of about 0.3% vanadium with resources and reserves of 3.65 million tons.
Vantra Vanadium Mine in Brits, South Africa is operated by Highveld Steel and Vanadium (OTC:HGVLY).  It has the capacity to produce 5 million kgs of vanadium oxide per year.