Indonesian Tin Exports Benefiting from Weather Improvements
By Dave Brown – Exclusive to Tin Investing News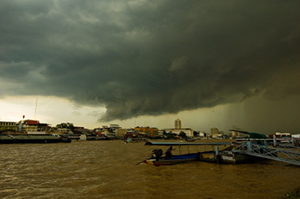 Preliminary data from the Indonesian ministry of trade recently indicated an increase in shipments of refined tin in April. For the previous month,  7,926 tonnes of tin were reported prior to export by surveying companies, up from 6,576 tonnes the previous month and 30 percent higher than in April 2009.
The reported increase was ascribed to improving weather conditions. Tin production in the first three months of 2010 was significantly impacted by heavy monsoon rain and winds, which created impediments to mining for tin offshore. The cumulative tonnage checked for export in the first four months of the year was 27,901 tonnes, down 12.9 percent compared to 32,041 tonnes in January-April last year.
Mining News
PT Timah (JAK:TINS) plans to increase mining of deposits in the sea as illegal miners infringe upon its territorial mineral rights.  The company's President Director Wachid Usman told reporters last week at a conference in Jakarta that offshore mining may account for as much as 60 to 70 percent of total output this year.   Timah said that it plans to borrow $162 million to buy five new offshore tin dredges in 2011.  In the past, offshore production has accounted for 48 percent of 2009 mine production (including purchases from small onshore mines within its leases), up from 29 percent in 2008 and 21 percent in 2007.   Mr. Usman also said that the company is maintaining a refined tin output target of 50,000 tonnes for the year, "We remain conservative for this year especially as the crisis in Greece may affect global demand for tin."
Get the Top Stories on Resource Investing FREE!
Learn what is going on before you buy from this FREE Special Report, 
Who is Kitco? to US Mint: Sold Out! – Top Articles from Resource Investing News
.