Top Lithium-Producing Countries
Here's a look at the world's top lithium-producing countries from 2015.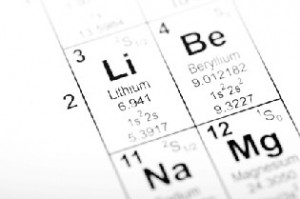 The lithium market continues to grow at a rapid pace, and 2015 was no exception for the top lithium-producing countries. While prices for many other metals and energy commodities felt significant pressure last year, lithium prices have been on a tear.
Continued developments from Tesla Motors (NASDAQ:TSLA) stoked further interest in the mineral, although that's not the only reason for lithium's success.
Despite accounting for only a fraction of lithium demand worldwide, Tesla has contributed to plenty of excitement in the junior lithium space, encouraging more and more junior mining companies to switch to lithium.
Given the growing importance of energy metals and lithium-ion batteries, securing a consistent supply of lithium is a top priority for technology companies around the world. Lithium's uses extend far beyond rechargeable batteries, but many predict that this application will dominate demand for the metal in coming years.
Here's a look at the top lithium-producing countries, as per 2015 data reported by the US Geological Survey (USGS). This article will be updated when new information becomes available.
1. Australia
Mine production: 13,400 MT
First on the top lithium-producing countries is Australia. In 2015, Australian mines delivered 13,400 metric tons (MT) of lithium, an increase of 100 tons from the year prior. The country is home to the Greenbushes lithium project, which is owned and operated by Talison Lithium, a subsidiary jointly owned by China's Tianqi Group and US based Albemarle (NYSE:ALB).
Greenbushes is the world's largest known single lithium reserve, and has been operational for over 25 years. The location is a boon to lithium producers, as it provides relatively easy access for Asian electronics companies, which are the world's top lithium consumers.
Australia holds roughly 1.5 million MT of lithium reserves, according to the USGS. It's worth noting that much of Australia's mined production is exported to China in the form of hard-rock spodumene, where it is then further processed into end products such as lithium carbonate and lithium hydroxide.
2. Chile
Mine production: 12,900 MT
Chile provided the second-highest amount of lithium last year, upping its production from 11,500 MT in 2014 to 11,700 MT last year. Overall, Chilean mines feature the largest confirmed lithium reserves in the world, with over 7,500,000 MT of lithium. By that estimate, the country hosts roughly five times more lithium than Australia, which features the second-largest reserves.
In particular, the Atacama salt flat is the most significant source of Chile's massive lithium production. BBC News reported that one project alone encompasses approximately 20 percent of the world's total lithium. While Australia extracts lithium from traditional hard-rock mines, Chile's lithium is found in brines below the surface of salt flats.
These brines are collected and treated in order to separate the lithium from wastewater. The region is extremely arid, making it conducive to lithium extraction via evaporation ponds.
3. Argentina
Mine production: 3,800 MT
Argentina increased its lithium production by 600 MT in 2015 to overtake China as the world's third largest lithium-producing country. Of note, Bolivia, Argentina and Chile comprise the "lithium triangle." Argentina benefits from the same geological conditions that created the lithium-rich salt flats that fuel Chilean lithium production.
The most important salt flat in Argentina is the Salar del Hombre Muerto. While the high lithium content of this area is well documented, projects are still in development.
Meanwhile, the election of Mauricio Macri in Argentina has brought a political shift that is expected to be a win for the mining industry in the country.
4. China
Mine production: 2,200 MT
Fourth on the top lithium-producing countries is China, although it trailed behind in terms of mined production. In 2015, China put out just 2,300 MT of lithium. That represents a drop of 100 MT of production from 2015.
The country's massive electronics manufacturing industry means that China is also the world's largest consumer of lithium. However, China's lithium industry has yet to fully ramp up lithium extraction. The majority of Chinese lithium has come from the Chang Tang plain in Western Tibet.
That said, the country is rushing to develop its lithium production capacity, and has plenty of room to grow. The USGS pegs the country's lithium reserves at 3,500,000 tons.
For now, China gets much of its raw lithium supply from Australia. That system is working well so far; Chinese companies Sichuan Tianqi Lithium and Jiangxi Ganfeng Lithium are two of the top producers of lithium products worldwide.
5. Zimbabwe
Mine production: 900 MT
Zimbabwe's lithium output held steady from 2014, with the country putting out 900 MT of the mineral in 2015. Privately-held Bikita Minerals controls nearly all of the country's lithium mining.
6. Portugal
Mine production: 300 MT
While Portugal put out significantly less lithium than the other countries on this list, it remains a major player in the lithium industry. Overall, the country produced 300 tons of lithium last year.
The majority of the country's known lithium stores are centrally located in the Goncalo aplite-pegmatite field. There are other areas of the country that may contain large amounts of lithium, but further exploration will be required to determine whether these deposits could be developed economically.
7. Brazil
Mine production: 160 MT
Similarly, Brazil contributed 160 tons of lithium to global output in both 2014 and 2015. The country has deposits of the mineral in a few northern areas, including Minas Gerais and Ceara However, Brazil's known lithium reserves remain relatively small.
8. United States
Mine production: undisclosed
Rounding out the top lithium-producing countries for 2015 is the United States. The US is home to a single lithium mine controlled by Rockwood Holdings, which was acquired by Albemarle in 2015. The brine operation is located in Nevada, and accounts for all of the country's lithium output. The US Geological Survey does not release national production numbers to protect the company's trade secrets.
Nevada has become a hot spot for lithium, and in particular the Clayton Valley, more of which can be read here.
Don't forget to follow us @INN_Resource for real-time news updates.
This article was originally published on the Investing News Network on March 23, 2016.