8 Top Lithium-producing Countries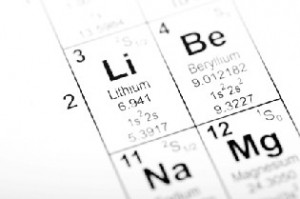 2014 was certainly an eventful year for the lithium space. Although Tesla Motors (NASDAQ:TSLA) definitely took center stage, Albemarle (NYSE:ALB) also made headlines with its move to acquire Rockwood Holdings.
Other significant events included FMC's (NYSE:FMC) announcement that it would raise prices for several of its lithium products and RB Energy's (TSX:RBI) closure of its Quebec lithium plant following its failure to secure additional funding.
Overall, given the growing importance of energy metals and lithium-ion batteries, securing a consistent supply of lithium is a top priority for technology companies around the world. Lithium's uses extend far beyond rechargeable batteries, but many predict that this application will dominate demand for the metal in coming years.
Here are the world's top lithium-producing countries from 2014, as reported by the US Geological Survey.
1. Australia
Mine production in 2014: 13,000 tons
In 2014, Australian mines delivered 13,000 tons of lithium, an increase of 300 tons from the year prior. The country is home to the Greenbushes lithium project, which is owned and operated by Talison Lithium, a subsidiary of privately held Tianqi Group. Greenbushes is the world's largest known single lithium reserve, and has been operational for over 25 years. The location is a boon to lithium producers, as it provides relatively easy access for Asian electronics companies, which are the world's top lithium consumers.
2. Chile
Mine production in 2014: 12,900 tons
Chile provided the second-highest amount of lithium last year, and could be poised to take back its position as number-one producer in the future. Overall, Chilean mines feature the largest confirmed lithium reserves in the world, with over 7,500,000 tons of lithium. By that estimate, the country hosts roughly five times more lithium than Australia, which features the second-largest reserves.
In particular, the Atacama salt flat is the most significant source of Chile's massive lithium production, and BBC News reported that one project alone encompasses approximately 20 percent of the world's total lithium. While Australia extracts lithium from traditional hard-rock mines, Chile's lithium is found in brines below the surface of salt flats. These brines are collected and treated in order to separate the lithium from wastewater.
The region is extremely arid, making it conducive to lithium extraction via evaporation ponds. However, the region recently saw the worst floods in 80 years, causing some major lithium producers to temporarily halt production.
3. China
Mine production in 2014: 5,000 tons
China trailed the world's largest producers by a sizable margin, producing 5,000 tons of lithium during 2014. That represents a 300-ton increase from 2013. The country's massive electronics manufacturing industry means that China is also the world's largest consumer of lithium; however, China's lithium industry has yet to fully ramp up lithium extraction. Currently, the majority of Chinese lithium comes from the Chang Tang plain in Western Tibet, according to China Dialog.
That said, the country is rushing to develop its lithium production capacity, and has plenty of room to grow. The US Geological Survey pegs the country's lithium reserves at 3,500,000 tons.
4. Argentina
Mine production in 2014: 2,900 tons
Argentina increased its lithium production by 400 tons and extracted 2,900 tons of the metal in 2014. Bolivia, Argentina and Chile comprise the "lithium triangle," and Argentina benefits from the same geological conditions that created the lithium-rich salt flats that fuel Chilean lithium production.
The most important salt flat in Argentina is the Salar del Hombre Muerto. While the high lithium content of this area is well documented, projects are still in development. As the country's production capacity increases, Argentina could grow into one of the world's top-three lithium producers.
5. Zimbabwe
Mine production in 2014: 1000 tons
Zimbabwe's lithium output held steady from 2013, with the country putting out 1,000 tons of the metal last year. Privately held Bikita Minerals controls nearly all of the country's lithium mining, and announced expansion plans in the summer of 2014, according to the Zimbabwe Mail.
6. Portugal
Mine production in 2014: 570 tons
While Portugal put out significantly less lithium than the other countries on this list, it remains a major player in the lithium industry. Overall, the country produced 570 tons of lithium last year.
The majority of the country's known lithium stores are centrally located in the Goncalo aplite-pegmatite field. There are other areas of the country that may contain large amounts of lithium, but further exploration will be required to determine whether these deposits could be developed economically.
7. Brazil
Mine production in 2014: 400 tons
Similarly, Brazil contributed 400 tons of lithium to global output in both 2013 and 2014. The country has deposits of the mineral in a few northern areas, including Minas Gerais and Ceara, but Brazil's known lithium reserves remain relatively small.
8. United States
Mine production in 2014: undisclosed
Rounding out the top lithium producers for 2014 was the United States. The US is home to a single lithium mine controlled by Rockwood Holdings, which was acquired by Albemarle this year. The brine operation is located in Nevada, and accounts for all of the country's lithium output. The US Geological Survey does not release national production numbers to protect the company's trade secrets.
______________________________________________________________________________
(June 24 2014)
2013 Top 8 Lithium-producing Countries
Lithium has been getting plenty of attention lately with news surrounding Tesla Motors and an expanding market for lithium-ion batteries. Lithium producers are no doubt excited, as are investors and analysts. In this light, it is interesting to take a look at where the world's lithium is coming from.
The US Geological Survey recently released its 2014 report on lithium, and Lithium Investing News took the opportunity to read up on the top producing countries for 2013. Below is a list of last year's top lithium producers as described by the US Geological Survey.
1. Chile
Mine production: 13,500 tons
In 2013, Chile was the world's top producer of lithium, producing 13,500 tons. The number represents an increase over the country's 2012 production of 13,200 tons.
Chile is home to Salar de Atacama. Nestled between the Andes and the Cordillera de Domeyko, a secondary mountain range of the Andes, Salar de Atacama is a large salt flat that is surrounded by mountains and has no drainage outlets. The salt flat is a dried bed of an ancient Chilean lake and is home to neither plants nor animals; however, some 130 feet below the surface there is brine containing lithium that can be pumped from the ground. Salar de Atacama alone is responsible for 27 percent of the world's lithium reserves.
2. Australia
Mine production: 13,000 tons
Australia was next, producing 13,000 tons of lithium in 2013, an increase from 2012′s production of 12,800 tons.
Talison Lithium, the world's largest primary lithium supplier, operates in the country, and its Greenbushes lithium operation has been in production for more than 25 years. Currently, Talison is the only primary lithium supplier that does not produce from brine, but instead from rock mining. It has recently expanded due to growing demand for lithium from the battery industry, though it already supplies around one-third of the world's lithium and 75 percent of China's in particular.
3. China
Mine production: 4,000 tons
China came in at a distant third. The country produced 4,000 tons of lithium in 2013, down from the 2012 level of 4,500 tons.
Lake Zabuye, a mountain-surrounded salt lake in the Shigatse Prefecture of Tibet Autonomous Region, is the namesake of the mineral zabuyelite, or lithium carbonate, which was discovered there in 1987. Lithium carbonate has been mined at the lake since 2004, and Zhabuye Lithium owns exclusive mining rights to the lake.
4. Argentina
Mine production: 3,000 tons
In fourth place was Argentina with 3,000 tons of lithium production in 2013, an increase from 2,700 tons the year before.
Like Chile, Argentina has many salt pans. The most important one for lithium production is Salar del Hombre Muerto, located in Northwestern Argentina. Situated near a desert, the barren salt pan occasionally receives enough rainfall to cover its surface with water, which then evaporates to form a layer of brine. That brine is rich in lithium, which is extracted by pumping it into solar ponds; a concentrated solution of lithium is then produced through evaporation.
Two other salt pans, Salar de Olaroz and Salar de Rincon, are also currently under development.
5. Zimbabwe
Mine production: 1,100 tons
Zimbabwe produced 1,100 tons of lithium in 2013, increasing its output from 1,060 tons in 2012.
Zimbabwe has been producing lithium for 60 years, according to the country's Chamber of Mines. Over 11 million tons of lithium-containing resources exist at Bikita, making it the largest deposit of its kind in the world; however, production amounts to much less by volume as even very rich ores do not contain much lithium.
6. Portugal
Mine production: 570 tons
Last year, 570 tons of lithium were produced in Portugal, marking a narrow improvement from 2012, when 560 tons were produced.
Production comes from aplite-pegmatite viens in the Gongalo or Guarda region. Mining in this region tends to produce milled ore with a content of around 1-percent lithium. That said, there are other places in the country that may contain lithium. Those are largely sites in mountain ranges.
7. Brazil
Mine production: 150 tons
A drastic difference from those at the top of the list, Brazil managed to put out 150 tons of lithium in 2013, staying constant from 2012.
The existing lithium reserves in Brazil have not been measured consistently, but there are certainly known lithium ores in the country. These exist in Minas Gerais in Aracuai and Itinga, as well as in the state of Ceara in the municipality of Quixeramobim. Like Portugal, Brazil has lithium in pegmatite rock rather than in salt lakes.
8. United States
Mine production: undisclosed 
The production data for lithium in the US has been withheld to avoid disclosing proprietary company information, as only one active lithium mine exists in the country. The mine is operated by Rockwood Lithium, a subsidiary of Rockwood Holdings.