Types of Graphite: Amorphous, Flake and Vein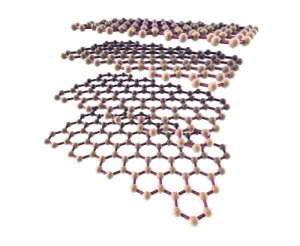 Graphite is made up of carbon atoms bonded together in sheets of a hexagonal lattice. It is because of this unique structure that graphite has such a stellar combination of properties: it is flexible, highly refractory, chemically alert and has high thermal and electrical conductivity. It is used across various industries in refractory applications and crucibles (35 percent), foundry operations and steelmaking (26 percent), automotive parts (14 percent), lubricants (14 percent) and batteries (10 percent).

There are three principle types of natural graphite: amorphous, crystalline flake and vein.
Amorphous graphite
Amorphous graphite is found as minute particles in beds of mesomorphic rocks like coal, slate or shale, and its carbon content depends on that of its parent material. When found in coal it is also referred to as meta-anthracite, the result of the thermal metamorphism of coal, the last stage of coalification; however, it is not used as coal as it is difficult to ignite. Amorphous graphite is the most abundant type of graphite and is usually lower in purity than other natural graphite, selling for about US$700/t.
| | |
| --- | --- |
| | Namibia is ranked #1 in Africa for mining investment and Next Graphite, Inc. (OTC:GPNE) has 140,000 tonnes of graphite stockpiled at surface with flotation testing achieving results as high as 97.1% pure graphite Connect and don't miss out as they re-launch the Aukam Graphite Project Learn More |
Uses
Amorphous graphite is used in the refractories industry to manufacture crucibles, ladles, molds, nozzles and troughs that can withstand the very high temperatures associated with molten metal, particularly the casting of steel. The electrodes used in many electrical metallurgical furnaces, including the electric arc furnaces used in steel processing, are manufactured from graphite. In the production of steel itself, graphite is used as a carbon raiser to strengthen steel. Its also used in blast furnace linings for the production of iron because of its high thermal conductivity.
Amorphous or fine-flake graphite is used in brake linings, gaskets and clutch materials. Foundry facing mold wash uses amorphous or fine-flake graphite in a water-based paint to coat the mold, thereby allowing ease of separation of the casted object from the mold after the metal has cooled. Low-quality amorphous graphite, mostly from China, is used to make pencil lead.
Crystalline-flake graphite
Natural graphite demand is shifting from the amorphous variety to large, high-purity flake as emerging applications such as batteries and flexible graphite products begin to represent a larger portion of graphite market end uses, according to recent market research.
Flake graphite occurs as isolated, flat, plate-like particles with either hexagonal or angular edges and is found in metamorphic rocks either uniformly distributed through the body of the ore or in concentrated lens-shaped pockets. It occurs in a scaly form in certain metamorphic rocks such as limestone, gneisses and schists. While all graphite has a flaky morphology on some level, flake graphite demonstrates this structure regardless of particle size. Flake graphite has a carbon content of 80 to 98 percent, and though it can be found throughout the world, it is rarer than amorphous graphite.
There are three primary sizes of flake graphite: fine (-100 mesh), medium (+100 mesh) and coarse flake (+80 mesh). Most consumers prefer to use high-grade, large-flake graphite for their products. In fact, it's flake size and purity that determine price. Large-flake graphite (+80 mesh), with high carbon content (94 percent or greater) is the type required for use in lithium-ion batteries, and it fetches a premium.
Uses
Large-flake graphite, like amorphous graphite, is also used in the refractory and steel industries. High-purity, large-flake graphite is becoming an important material in anode construction in all major battery technologies, tying its future demand forecast to increasing battery demand. Lithium-ion batteries use 10 to 20 times more graphite than lithium carbonate. An average hybrid electric vehicle requires more than 10 kg of graphite, while an average electric vehicle requires 70 kg. "Annual flake graphite production will have to increase by a factor of six by 2020 to meet incremental lithium carbonate requirements for batteries," states a recent Canaccord research report.
Fuel cells use even more graphite than lithium batteries and are expected to replace combustion engines as a more efficient means of converting fuel to energy. Fuel cells of all sizes are also making their way into the personal electronics sector and even into the utilities sector, where they can be used to provide emergency power to hospitals or turn methane gas into electricity at wastewater plants.
Graphite is also an essential part of vanadium redox battery technology, with nearly 300 tons of flake graphite required per 1,000 megawatts of storage. The unique properties of vanadium and graphite combined allow for the long-term storage of an unlimited capacity of excess energy to be used during interrupted energy production.
Pebble-bed nuclear reactors, which use uranium embedded in fist-sized graphite balls, are another example of how important graphite is becoming to the energy sector. Just one 100 GW pebble-bed nuclear reactor requires 300 tonnes of graphite to start initial production, followed by an additional 60 to 100 tonnes per year for continual operation. According to a Mackie Research Capital study, the flake graphite required to operate installed pebble reactors in the US by 2020 will equal today's global annual production.
Vein graphite
Vein graphite, or lump graphite, is believed to have hydrothermal origins and occurs in fissure veins or fractures, appearing as massive platy intergrowths of fibrous or needle-like crystalline aggregates. The fissures are typically between 1 centimeter and 1 meter thick, with a carbon content of 90 to 99 percent. It is believed to originate from crude oil deposits that through time, temperature and pressure have converted to graphite. Graphite in this form is found all over the world, but is only currently mined in Sri Lanka.
| | |
| --- | --- |
| | Namibia is ranked #1 in Africa for mining investment and Next Graphite, Inc. (OTC:GPNE) has 140,000 tonnes of graphite stockpiled at surface with flotation testing achieving results as high as 97.1% pure graphite Connect and don't miss out as they re-launch the Aukam Graphite Project Learn More |
Uses
Vein graphite is used in advanced, thermal and high friction applications such as car brakes and clutches. It is also used in much the same way as flake graphite as its shows great performance in applications that require high thermal and electrical conductivity. Like flake graphite, vein graphite is valued by carbon content and particle size.
Up-and-coming junior graphite companies
China currently produces the majority of global graphite supply, but several junior resource companies are working on quality projects elsewhere. Graphite mines usually operate on a small scale with low capital requirements, making them well-suited to the junior resource space. The following are a few examples of junior resource companies on the must-watch list of most market analysts.
Northern Graphite (TSXV:NGC) is a Canadian company with a 100-percent interest in the Bissett Creek graphite deposit in Ontario, Canada. The large-flake, high-purity, scalable deposit is located close to infrastructure and is the only project outside of China with a completed bankable feasibility study. The company plans to be in production in 2014.
Energizer Resources (TSX:EGZ,OTCBB:ENZR) holds a 75-percent interest in the Green Giant graphite project, located in Madagascar. The company believes the Molo flaked deposit may be the largest known graphite deposit in the world. Energizer expects to have a completed NI 43-101 resource estimate by the end of November 2012. It will be incorporated into a preliminary economic assessment that is expected to be completed by the end of the year.
Syrah Resources (ASX:SYR) is an Australia-based mining company whose Balama project in Cabo Delgado, Mozambique reportedly contains multiple zones of high- to very-high-grade graphite of mainly medium to coarse flake. The property also contains vanadium deposits.
Focus Graphite (TSXV:FMS,OTCQX:FCSMF) is a Canada-based company that wholly owns the Lac Knife project, located in the Côte Nord region of Quebec. According to the company, the project boasts the highest-grade (16 percent) technology graphite deposit in the world. Focus Graphite is also invested in the development of graphene applications and patents through Grafoid, soon to be a public company.
Zenyatta Ventures (TSXV:ZEN) is a Canada-based exploration company whose Albany graphite deposit in Ontario is the only new vein graphite mine under development.
Securities Disclosure: I, Melissa Pistilli, hold no direct investment interest in any company mentioned in this article.
| | |
| --- | --- |
| | Namibia is ranked #1 in Africa for mining investment and Next Graphite, Inc. (OTC:GPNE) has 140,000 tonnes of graphite stockpiled at surface with flotation testing achieving results as high as 97.1% pure graphite Connect and don't miss out as they re-launch the Aukam Graphite Project Learn More |