New Graphene Tech Could Double Lithium-ion Battery Lifespan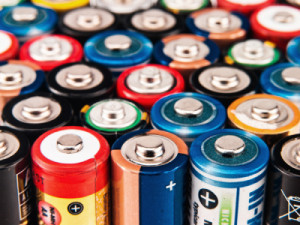 New research in the battery space could help lithium-ion batteries last a whole lot longer. A group of researchers, many of whom are affiliated with Samsung Electronics (KRX:005930), have developed technology that could double the lifespan of lithium-ion batteries.
According to a paper published in the journal Nature Communications (the online-only, open-access version of Nature), researchers saw the energy density of lithium-ion batteries increase with the use of graphene-coated silicon anodes.
Specifically, when paired with a commercial lithium-cobalt-oxide cathode, the silicon-graphene anode helped batteries reach energy densities 1.5 to 1.8 times higher than current commercial lithium-ion batteries.
To be sure, silicon anodes have been problematic for battery researchers and manufacturers. They've been discussed for quite some time, and are certainly better at holding a charge than graphite. However, they tend to expand a lot when charged.
As PCWorld notes, silicon anodes can expand by as much as 400 percent, which is problematic for battery manufacturers trying to make batteries smaller. Also, all that expansion and contraction helps silicon anodes break down faster.
The solution to the problem, according to Samsung researchers, is graphene. Thin layers of the material grown on the surface of silicon anodes help work against the expansion, although they also "accommodate the volume expansion of silicon via a sliding process between adjacent graphene layers."
What does that mean for graphite investors? For now, not much. While the news is exciting, it's important to remember that the technology is still very early stage. Plenty of news outlets have pointed out that it could take years before the research gets translated into something that's commercially viable.
Indeed, Simon Moores of Benchmark Mineral Intelligence recently told the Investing News Network that he's heard of the concept of graphene-coated anodes being used to limit the expansion of silicon on charging, but added that's just "one of many hurdles" that silicon anodes need to overcome.
Still, it's interesting to see so much attention being paid to lithium-ion battery research as of late. Monday's news follows a number of other battery-related announcements — Tesla Motors (NASDAQ:TSLA) recently announced plans to work with lithium-ion battery researcher Jeff Dahn to lower the cost of its batteries, while MIT reported a new approach to manufacturing that could halve the cost of lithium-ion batteries.
Extensive research into batteries isn't anything new, of course, but the recent news in the space does highlight the importance of lithium-ion batteries in our daily lives. In turn, that sheds more light on the critical metals needed to make those batteries.
In any case, while silicon-based anodes may still be a few years away from commercial possibility, the authors of the paper hope their work will "serve as a prototype in advancing silicon anodes to commercially viable technology." Graphite investors will no doubt be keeping an eye out for any changes on that front.
Securities Disclosure: I, Teresa Matich, hold no direct investment interest in any company mentioned in this article.
Related reading: 
What Does Tesla's New Battery Research Partnership Mean for Graphite, Lithium and Cobalt?