5 Top NASDAQ Biotech Stocks: Transgenomic Gains 250 Percent
Here's a closer look at last week's top gainers.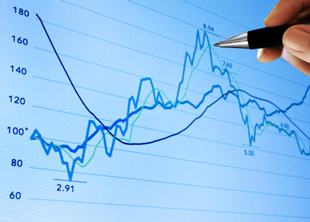 The NASDAQ Biotechnology index (INDEXNASDAQ:NBI) got Trumped this week.
The index reached a high of 3,001.783 points on Tuesday, then tumbled mere minutes after US-President elect Donald Trump said that the drug industry is "getting away with murder" during his first press conference after the elections. The index ended the trading week at 2,931.56 points on Friday.
Despite that, these pharmaceutical and medical device companies registered gains as high as 250 percent last week. Let's take a closer look at the top five.
Transgenomic
Transgenomic is focused on advancing personalized medicine in oncology and inherited diseases through its advanced diagnostic technologies. Last week, shares soared when the company announced a three year renewable licensing agreement with Canadian laboratory service provider LifeLabs. LifeLabs will be able to offer advanced clinical genomic analyses through Transgenomic's ICP technology.
Transgenomic gained 250 percent over the five day trading period and finished at $0.98 per share on Friday.
Dextera Surgical
Dextera Surgical is a manufacturer and designer of stapling devices for minimally invasive surgical procedures. On January 5th, the company provided a corporate update stating the milestones they expect to hit in 2017. However, there has been no further recent news from the company to explain last week's rise in share price.
Dextera Surgical gained 80.85 percent last week and finished at $1.70 per share on Friday.
Ariad Pharmaceuticals
Ariad Pharmaceuticals has a focus on discovering and developing drugs for rare cancer therapies. Shares rose on Monday when Ariad announced a $5.2 Billion definitive agreement to be acquired by Takeda Pharmaceutical (TSE:4502). The transaction is expected to close by the end of February 2017.
Ariad Pharmaceuticals gained 72.42 percent over the five day trading period and finished at $23.69 per share on Friday.
GenVec
Clinical-stage gene delivery company GenVec is developing a pipeline of therapeutics and vaccines. The company's leading product candidate CGF166 is currently licensed to Novartis (NYSE:NVS), and is on Phase 1/2 clinical study for hearing loss and balance disorders treatment. The previous week, GenVec announced an exclusive option agreement with the Washington University in St. Louis for the licensing of intellectual property and technology related to gene editing and and cell targeting.
GenVec gained 67.76 percent last week and finished at $6.14 per share on Friday.
DexCom
DexCom's G5® Continuous Glucose Monitoring (CGM) System provides diabetes patients with real-time glucose readings every five minutes. Shares soared on Friday when the company announced on Friday that the Centers for Medicare & Medicaid Services categorized the G5 Mobile as "Durable Medical Equipment" under Medicare Part B. CNBC wrote that, "This new classification means the device is eligible for Medicaid and Medicare coverage."
DexCom gained 34.64 percent last week and finished at $85.13 per share on Friday.
Don't forget to follow @INN_LifeScience for real-time updates!
Data for 5 Top NASDAQ Stocks articles is retrieved each Friday after market close using The Globe and Mail's market data filter. Only companies with a market capitalization greater than $10 million prior to the week's gains are included. Companies within the biotechnology and pharmaceutical sectors are considered.
Securities Disclosure: I, Pia Rivera, hold no direct investment interest in any company mentioned in this article.
Previous week's gainers:
5 Top NASDAQ Biotech Stocks: EnteroMedics Takes the Lead