The profile below is part of a campaign paid for by Wolf Minerals. This profile provides detailed information, helping investors make better investment decisions. Wolf Minerals' support of Tungsten Investing News ensures we can continue to bring you unbiased, independent news and information.
OVERVIEW
Wolf Minerals Limited (ASX:WLF,AIM:WLFE) is an emerging tungsten producer developing the Hemerdon Tungsten and Tin Project in Devon, England. Considered the third-largest tungsten resource in the world, the property contains a JORC-compliant Proven and Probable Reserve of 35.7 MT @0.18% tungsten and 0.03% tin; and Measured and Indicated resources of 58.6 MT @0.17 tungsten and 0.02% tin plus an additional 86.6 MT @0.14% tungsten and 0.02% tin.
Hemerdon is the only sizeable tungsten project under construction in the world today; most other significant projects are at least 1.5 to 2 years away from commercial production. The Hemerdon Project is expected to be a low-cost, large-scale open-pit mining operation with first production slated for mid-2015. In 2016, production at Hemerdon will account for 3.5% of projected world demand.
Wolf Minerals is managed by an experienced team of British and Australian mining professionals with an excellent track-record of development and operational success.
KEY ASSET:Hemerdon Tungsten Project
The Hemerdon Tungsten Project is located 10 km northeast of Plymouth, in Devon, England. The project site has access to existing infrastructure and is located near existing open pit clay mining operations. Wolf Minerals acquired the property in 2007 with a pre-existing planning approval valid until 2021. The Company is applying to extend the approval.
An extensive tungsten and tin deposit was first discovered at Hemerdon in the 1860's. The Property was first developed in 1914 when demand for weaponry during World War I drove tungsten demand much higher. Commercial production continued sporadically until the mine's closure in 1945. Total production from Hemerdon during the war period was limited and represents about one month's production from the new operation.
Definitive Feasibility Study
In May 2011, Wolf Minerals completed a Definitive Feasibility Study on the Hemerdon project, the results of which indicated robust economics based on a 3Mtpa operation over a 9.25 year life of mine. Production is estimated at approximately 350,000 tonnes per annum (tpa) of a wolframite tungsten concentrate with a grade of 65% WO3 along with approximately 460 tpa tin concentrate. The Hemerdon project has an estimated CAPEX of £130 million.
In December 2013, Wolf Minerals was granted its Waste Facility Environmental Permit, the final major permit required in the development of the project. Construction began in February 2014.
Reserves increased by 34%
In March 2015, Wolf Minerals announced it had increased the Ore Reserves by 34% over the previous Ore Reserve reported in the 2011 Definitive Feasibility Study.
The new estimate is based on the positive results of a six-hole geotechnical program, targeting the perimeter of the open pit, completed in Q4 2014. The work resulted in a new pit design that steepens the pit walls and results in the pit being 65 metres deeper, leading to the increase in reserves that equate to a three year increase in mine life.
There is still tremendous upside to the resource and reserve potential at Hemerdon. Drilling indicates that mineralization is open at depth to more than 400 metres below surface and there is also mineralization open along strike.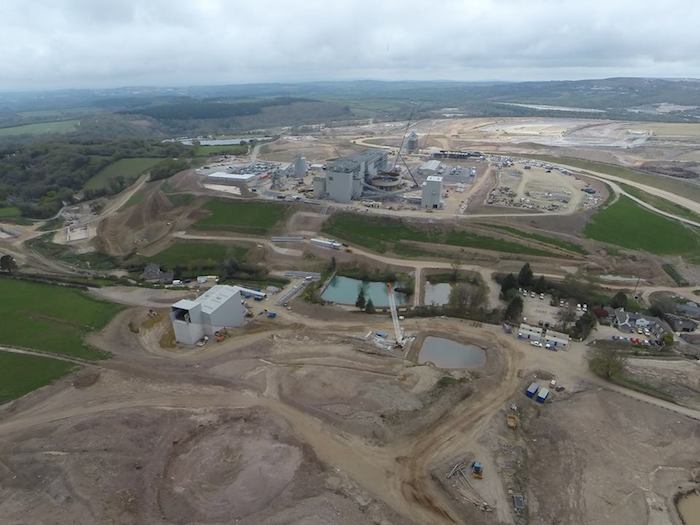 Production in 2015
Hemerdon ore will be processed using a simple gravity circuit. Operations at Hemerdon will also include an SGS Laboratory for testing both grade control samples and processing plant samples. Installation is underway and assaying will begin in June 2015.
Mine optimization and equipment installation is underway and the project remains on schedule for production in mid 2015. Wolf Minerals expects to begin introducing ore into the plant in June 2015.
Wolf Minerals has secured strategic off-take agreements with two of the world's largest end users: Global Tungsten & Powders; and Wolfram Bergbau and Hutten. The agreements are for a fixed-term of 5 years and a fixed volume that totals 80% of tungsten concentrate production at Hemerdon, at a floating price.
Investment Highlights
First production expected in mid 2015.
Capex of £123m, with £75m secured through senior debt.
Fully funded through to positive cash flow.
DFS indicates solid EBITDA margins and low operating production costs.
Off-take agreements for 80% of production.
Substantial shareholders include: Resource Capital Fund (41.7%), TTI (NZ) Limited (32.2%) and Traxys Projects LP (6.9%).
Management
John Hopkins, OAM — Independent Non-Executive Chairman
Mr. Hopkins has been a board member or chairman of nearly 20 public listed companies across Australia and Canada since 1985. Many of these positions have seen him involved in the financing and development of gold, base metal, energy, mineral sands and other resource projects in Australia and overseas. Mr. Hopkins is currently the Chairman of Universal Coal Plc and a Director of Alara Resources Ltd, both ASX listed resources companies.
Mr. Hopkins is a professional company director and chairman and is a graduate in law of the University of Western Australia. He has been admitted to practice as a barrister and solicitor for more than 40 years. Mr. Hopkins. was awarded the Medal of the Order of Australia (OAM) in January 2015 for services to the minerals and resources sector.
Russell Clark — Executive Managing Director
Mr. Clark is a mining professional with more than 35 years' experience in senior corporate, operational and project management roles in gold, industrial minerals, iron ore and base metal mines and has worked in Australia, the USA, Africa, South America and PNG. Most recently, in 2013, as CEO of Azimuth Resources he concluded the acceptance of a takeover of Azimuth by Troy Resources. Previously as MD of Grange Resources he managed the merger with ABM that made Grange become the largest magnetite producer in Australia through the Savage River mine, and was responsible for the production of prefeasibility and bankable studies for the $3b Southdown magnetite project in South West Australia.
Mr. Clark previously worked for Renison Goldfields for 18 years at numerous mining operations and spent 8 years with Normandy/Newmont where his final role was Group Executive of Operations, responsible for 8 mining operations in Australia and New Zealand.
Mr. Clark has a mining degree from the Royal School of Mines in London, and a post grad diploma in Finance and Investment Analysis. He is a Chartered Engineer, a fellow of the Australian Institute of Company Directors and a member of both the AusIMM and the Institute of Metals, Materials and Mining.
Ronald Beevor — Independent Non-Executive Director
Mr. Beevor has more than 30 years' experience in investment banking, including being the Head of Investment Banking at NM Rothschild & Sons (Australia) Limited between 1997 and 2002. During his career, Mr. Beevor has had an extensive involvement in the natural resources industry, both in Australia and internationally. He has significant experience working with companies transitioning from exploration and development to construction and production.
Mr. Beevor qualified as a chartered accountant and is Chairman of the Company's Audit & Risk Committee and its Remuneration Committee. Mr. Beevor is currently Non-executive Chairman of Bannerman Resources Limited and a Director of Unity Mining Limited. He is also a Director of Riverdale Resources Limited, an unlisted public company. His former recent listed company directorships include Bullabulling Gold Limited (from 2012 to 2014), EMED Mining Public Limited (from 2004 to 2014), Ampella Mining Limited (from 2011 to 2014), Talison Lithium Limited (from 2010 to 2013) and Rey Resources Limited (from 2010 to 2012).
Nick Clarke — Independent Non-Executive Director
Mr. Clarke has more than 40 years of mining experience in production, consulting and corporate activity. He is the CEO of Central Asia Metals Plc (AIM), a copper producing company with assets in Kazakhstan and Mongolia. He was previously Managing Director of Oriel Resources Plc (AIM), until it was sold to Mechel OAO of Russia for US$1.5 billion in 2008.
From 1992-2004, Mr. Clarke was the Managing Director of international mineral consultancy Wardell Armstrong International Ltd, where he managed numerous multidisciplinary mining projects in the CIS and Africa. Prior to this he spent 16 years in production management within South Africa, Ghana, and Saudi Arabia. He is currently a non-executive director of TSX listed Columbus Copper Corp. Mr. Clarke graduated from Camborne School of Mines as a mining engineer and is a Chartered Engineer.
Chris Corbett — Non-Executive Director
Mr. Corbett has more than 16 years' experience in mining, corporate business development and investment management. He is currently employed by Resource Capital Fund, having gained prior experience in mine development, production and construction with contractor Byrnecut Mining Pty Ltd and corporate and divisional business development roles with Wesfarmers Limited. Mr. Corbett is a member of Engineers Australia and the Australian Institute of Company Directors. He is a graduate of the University of Western Australia with degrees in engineering and commerce, and postgraduate qualifications in Mining and Applied Finance.
Don Newport — Independent Non-Executive Director
Mr. Newport brings a wealth of mining project finance experience to the company. He is based in the UK and has over 35 years of banking experience, of which 25 years have been spent in the mining and resource sector. Mr. Newport retired at the end of 2008 as the head of Standard Bank's Global Mining Finance Business. Prior to moving to Standard Bank, he led the Barclays Capital Mining Sector Team. He has led or been closely associated with a number of significant mining corporate and project financings and has undertaken a variety of financial advisory roles. Mr. Newport is an Associate of the Chartered Institute of Bankers and holds a Certified Accountant's Diploma in Accounting and Finance.
Michael Wolley — Non Executive Director
Mr. Wolley has 15 years' experience with Mobil Oil Australia in a range of roles including engineering, operations, strategic planning and business development in Australia and New Zealand. In 1995, he left Mobil to pursue opportunities in Asia Pacific and worked in a number of senior executive roles in the manufacturing and industrial sectors including a period as President, BlueScope Steel China. In 2007, Mr. Wolley returned to the resources sector as Chief Operating Officer for Lynas Corporation, and subsequently into the gold sector where he is a Director of Red Mountain Mining, an ASX listed gold development business.
Mr. Wolley currently holds the position of Vice President Minerals for the Todd Corporation. He is a Director of Rutila Resources, an ASX listed resources business and sits on the Board of Strattera, the New Zealand minerals industry body. He is a member of both the Australian and New Zealand Institutes of Company Directors. Mr. Wolley holds a first class honours degree in chemical and materials engineering from the University of Auckland, and a Masters of Management from Macquarie Graduate School of Management.
Richard Lucas — Chief Financial Officer
Mr. Lucas commenced with Wolf Minerals Limited in April 2011 as Chief Financial Officer and Company Secretary. He is a Chartered Accountant with more than 18 years of financial experience in various sectors, including mining, construction, property development and professional services sectors. Mr. Lucas is responsible for the establishment of the group's integrated finance function. Prior to working at Wolf Minerals, Mr. Lucas reached Director level at PwC and was seconded to Lihir Gold as Commercial Manager where he managed the accounting and finance function. He was more recently with the Geotech Group as Chief Financial Officer.
Rupert McCracken — Project Manager, UK-based
Mr. McCracken has more than 25 years' experience in the development, construction and commissioning of mineral processing projects. This experience has been gained in various project positions for engineering groups, such as Bechtel, Transfield & Minproc Engineers, and more recently as project manager for mining groups, such as Comet Resources, Ticor South Africa, BHP Billiton and Resolute Mining. He successfully completed the Syama Gold Project in Mali, and prior to that was part of BHP Billiton's major projects review group.
Mr. McCracken has executed projects in Australia, New Zealand, South Africa, Mali, Mauritania, Ghana & Saudi Arabia. He has also been responsible for major feasibility studies, most notably, the Comet Resources Ravensthorpe Feasibility Study, which culminated in Billiton's investment in that project. Mr. McCracken holds a Bachelor of Engineering (Mechanical) from the Royal Melbourne Institute of Technology.
Jeff Harrison — Operations Manager, UK-based
Mr. Harrison is a mining engineer with more than 35 years' experience in Zambia, Australia and the UK. He has held senior management roles for Imerys, a china clay operator in Devon and Cornwall and is well known to the local Plymouth community. He is a Chartered Engineer, a Fellow of the AusIMM and a member of the Institute of Quarrying.
Emma Hall — General Manager, Business Development
Ms. Hall has worked in the specialty metals sector for five years with the world's largest lithium producer as Executive Director Corporate, where she led corporate strategy, global marketing and sales, and the development of new growth initiatives. Ms. Hall has also worked in investment banking in Sydney and London with Rothschild and Merrill Lynch and has undergraduate degrees in law and commerce from the University of Western Australia and a Master of Finance from Macquarie University.