The profile below is part of a campaign paid for by Wildcat Exploration. This profile provides detailed information, helping investors make better investment decisions. Wildcat Exploration's support of Zinc Investing News ensures we can continue to bring you unbiased, independent news and information.

Wildcat Exploration – Base Metal Exploration in New Brunswick
OVERVIEW
With a solid exploration partnership with Doe Run Canadian Exploration, Wildcat Exploration (TSXV:WEL) is focused on advancing exploration of the Island Lake property within the Bathurst Mining Camp in New Brunswick, near the previously producing Heath Steele zinc-lead-copper-silver mine. Two areas of zinc-lead-copper-silver mineralization have already been established at the Railroad and Roche Long Lac Zones of the property.
Canadian Mining Magazine has suggested that despite the company's tight share structure, "it has the property portfolio of a much more advanced company."
INVESTMENT HIGHLIGHTS
Exploration alliance with Doe Run Canadian Exploration means low-cost exploration
ZERO outstanding debt or warrants
Located next to excellent infrastructure within the Bathurst Mining Camp
Follow up drill programs now being planned
Increasing demand for zinc, coupled with dwindling supply
Upcoming zinc deficit?
Through Island Lake, Wildcat Exploration has the potential to provide exposure to rising zinc prices in the face of increasing demand and dwindling supply. Looking at the latest outlook, for the metal, the International Lead and Zinc Study Group has noted a deficit in refined zinc for this year, while analyst Stefan Ioannou suggested that "crunch time" could be coming for the base metal in 2015.
Meanwhile, a panel of CEO's at the December 2014 Scotiabank Mining Conference saw increased demand on the horizon but didn't see it as likely that China would up its production in response.
Certainly, there is a strong case for a solid outlook for the base metal.
Island Lake Property
Wildcat Exploration's Island Lake zinc-lead-copper-silver property is located in the prolific Bathurst Mining Camp of New Brunswick, just four kilometers southeast of the past producing Heath Steele zinc-lead-copper-silver mine. The mine operated for 43 years before closing in 1999.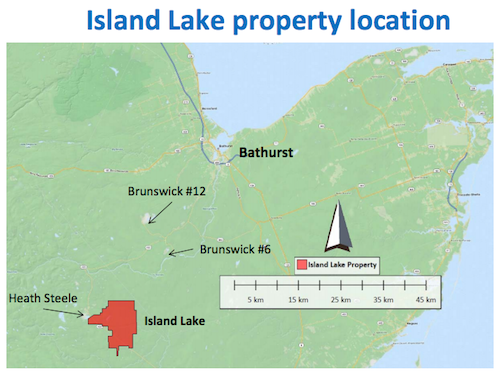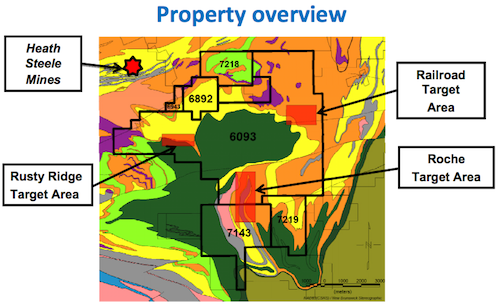 Wildcat Exploration obtained its right to acquire an interest in the property through the formation of a strategic alliance with Doe Run Canadian Exploration in 2012 and began exploration work at the property in 2013.
Wildcat-Doe Run Canadian Exploration Alliance
In 2012, Wildcat Exploration formed a strategic alliance with Doe Run Canadian Exploration for the joint advancement of base metal exploration projects in Canada. Explaining the benefits to both parties, Canadian Mining Magazine stated that Doe run brings "broad exploration and mining expertise" to the table while Wildcat Exploration has complementary operational and geological knowledge of Canadian base metal deposits.
To add weight to that statement, it's worth noting that CEO John Knowles is a former Hudbay Minerals (TSX:HBM) CFO and a current director of Hudbay and Roxgold (TSXV:ROG), while VP of Exploration Tom Lewis "has led exploration teams in many of Canada's major gold and base metal camps with Placer Dome, Hudbay and Anglo American," according to the magazine.
Under the terms of the agreement, Doe Run acquires and owns the Alliance exploration properties, while Wildcat Exploration manages projects for the alliance and has an option to earn up to a 30 percent interest in the properties.
Wildcat Exploration can exercise its Earn-in right any time after the Earn-in Right start date and prior to the completion of a feasibility study for a given project. Wildcat Exploration can earn a 10, 20 or 30 percent interest in a property by performing and funding exploration until it has spent 20, 35 or 50 percent of the total expenditures on the property. Once Wildcat earns its interest on a property, the companies will form a joint venture and will fund ongoing costs in proportion to their respective ownership of the project.
Currently, the Island Lake and Sewell Brook properties are included under the terms of the alliance. In December 2014, Wildcat Exploration and Doe Run extended their agreement its original two year term. The alliance will now last "until completion or termination of exploration programs on the property."
Plans moving forward
Wildcat Exploration has conducted geological field mapping, geochemistry and geophysics work at Island lake and has also completed two drill programs. 2014 drilling intersected significant zinc-lead-copper-silver mineralization at the Railroad zone at the northeast part of the property, and also identified a second encouraging zone of mineralization at the Roche Long Lac Zone.
Highlights of drill results from the Railroad Zone include:
14.51% zinc, 5.85% lead, 0.67% copper, and 139.9 grams per tonne of silver across 7.8 meters true width from a depth of 398 meters as well as 6.57% zinc, 2.78% lead, 0.46% copper, and 68.1 grams per tonne of silver across 2.6 meters true width from a depth of 389 meters.
5.57% zinc, 2.71% lead, 0.17% copper, and 56.6 grams per tonne of silver across 1.7 meters true width from a depth of 409 meters.
2.15% zinc, 0.84% lead, 0.27% copper and 26.8 grams per tonne of silver across a 3.0 meters of core length (true width unknown) from a depth of 420 meters.
At the Roche Long Lac Zone, drill hole IL-2014-009 returned 2.36% zinc, 1.03% lead, 0.04% copper, and 6.51 grams per tonne of silver across 8.5 metres true width from a depth of 168 meters, within a wider intercept of 14.1 meters true width from a depth of 168 meters, grading 1.98% zinc, 0.83% lead, 0.03% copper, and 4.5 grams per tonne of silver.
As this article from Mineweb notes, the company's decision to target the north portion of the Railroad Zone, rather than south portion which was drilled last year – has paid off. In particular, author Kip Keen pointed to one of Wildcat Exploration's September 3 results as representing "the first – if highly tentative – indication of both broad and very high grade zinc lead mineralization at Island Lake."
Following a detailed analysis of drilling, sampling and additional field mapping at Island Lake, Wildcat Exploration plans to resume drilling in 2015.
Other properties
In addition to its option agreement for Island Lake, Wildcat Exploration also owns its own portfolio of gold and base metal projects across Canada:
Reed Lake
Located in the Flin Flon Greenstone Belt of Manitoba, the Reed Lake copper-zinc property is located just four kilometers north of the producing Reed copper mine. The area is also home to Hudbay Mineral's (TSX:HBM) Lalor deposit and Rockcliff Resource's (TSXV:RCR) Rail
deposit.
Burntwood
The Burntwood nickel-copper-gold property is located in the Thompson Nickel Belt in Manitoba. Wildcat optioned the property from Anglo American (LSE:AAL) in 2011.
Drilling that year intersected 152 grams per tonne of gold over 1 metre, and Wildcat intends to evaluate the gold discovery with further drilling. The property is also prospective for nickel.
McVicar Lake

The McVicar Lake project in Ontario is located along the strike from the past producing Golden Patricia mine. Gold was discovered on the property in the early 1900's, and the area has been explored by BHP Billiton (NYSE:BHP,ASX:BHP,LSE:BLT) and more recently by Continuum Resources together with Prospector Consolidated Resources.
Significant intercepts to date include 5.7 grams per tonne of gold over 7 metres and 14.3 grams per tonne of gold over 4.6 metres. Wildcat currently has 5 target areas for drilling at the property.
Siderock Lake
The Siderock project includes both Wildcat's Siderock and Mable projects, and is located in Manitoba's Rice Lake greenstone belt. The property is prospective for gold, but also has some potential for base metals.
Wildcat has intersected up to 1.42 grams per tonne of gold over 2.6 meters in drilling at the Portage Gold Zone at the property
Rice Lake Properties (Royalty Interest)
Wildcat sold its Rice Lake area properties to San Gold Corporation (TSX:SGR) in 2013, retaining a two percent net smelter returns royalty on the projects.
The Rice Lake properties included the Jeep, Mike Power and Poundmaker properties. All are located east and west of the producing Rice Lake Mine.
MANAGEMENT
John Knowles – President & Chief Executive Officer
Mr. Knowles has over 25 years' experience in senior roles with Canadian and international resource companies. Prior to joining Wildcat in 2007 he was Executive VP and CFO of Aur Resources Inc. from 2005 to 2006. He was VP and CFO of Hudbay Minerals Inc. and its predecessor company from 1996 to 2005.
Mr. Knowles is a director of Hudbay Minerals Inc., a mining and metal processing company and of companies involved in international mineral exploration and development and biopharmaceutical research, production and sales. He is a Chartered Accountant and holds a Bachelor of Commerce degree from Queen's University.
Glen Gowryluk – Chief Financial Officer
Mr. Gowryluk is a Chartered Accountant and has served as CFO for the Company since January 2007.
Mr. Gowryluk has been active as an independent financial consultant for the past four years. Prior to his consultancy practice, he was CFO for Ceridian Canada Ltd. Mr. Gowryluk is a director of Habitat for Humanity, Winnipeg.
Tom Lewis, BSc, Geological Engineering, P. Eng. – Vice President Exploration
Mr. Lewis has extensive experience in exploration for gold and base metals across Canada with small and large companies. He has more than 30 years of industry experience and he joined the Company in 2009.
Mr. Lewis has served as Project Manager on the Musselwhite Gold Project with Placer Dome Inc., Chief Exploration Geologist with Hudson Bay Mining and Smelting Co. Limited, Exploration Manager, Canada and Safety Coordinator with Anglo American plc and, most recently, Regional Operations Manager with CanAlaska Uranium Ltd. Mr. Lewis is a graduate of Queen's University where he received a Bachelor of Applied Science in Geology (Geological Engineering).
Peter Theyer Ph.D., P.Geo. – Senior Geologist
Dr. Theyer is a Qualified Person as defined by National Instrument 43-101 and he is a leading authority on nickel-copper-PGE (platinum group elements) mineral deposition. Before joining the Company in 2006 Dr. Theyer had a distinguished 30 year career with the Manitoba Department of Science, Technology, Energy and Mines, Mineral Resource Division and Falconbridge Limited.