The profile below is part of a campaign paid for by Galane Gold. This profile provides detailed information, helping investors make better investment decisions. Galane Gold's support of Gold Investing News ensures we can continue to bring you unbiased, independent news and information.
Overview
Galane Gold Ltd. (TSXV:GG) is an unhedged gold producer operating in the mining-friendly jurisdiction of the Republic of Botswana. The Company owns and operates the Mupane Gold Mine, 30 km southeast of Francistown in Northeastern Botswana. Acquired from IAMGOLD in July 2011, the Mupane Gold Mine produces 50,000 oz gold per annum at approximately $1,100 per oz all-in cost on a 5 year plan.
The company aims to extend the mine life of its producing open pit Tau mine by shifting to underground mining operations. In addition to Tau, Galane owns the Signal Hill, Golden Eagle and Tholo mines as well as a diversified portfolio of exploration properties and mining tenements.
Investment Highlights
Control of all prospective ground on the Tati Greenstone Belt in the mining friendly jurisdiction of Botswana
Currently producing approximately 50,000 ounces of gold per annum at the Mupane Gold Mill
Cash balance of $4,308,145 at the end of the Q2 2015
Operating cash cost of $1,457 per ounce (excluding royalties)
Experienced senior management team with relevant past experience including Ravi Sood, former CEO of Navina Asset Management
Low risk resource growth, with potential for expansion of known deposits open at depth and along strike
Institutional investors include IAMGold Corporation (42%), Sprott Asset Management (9%)
Key Properties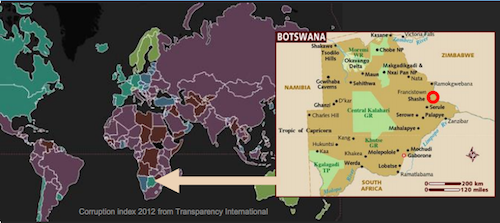 Galane Gold operates in the Republic of Botswana, ranked as the best investment jurisdiction in Africa and and 7th best mining country globally. It is a stable and economically sound mining-friendly jurisdiction, with strong GDP growth and AA credit rating.
Galane's wholly-owned subsidiary Mupane Gold Mining Pty Botswana holds prospecting licenses and mining licenses covering the entire prospective area of the Tati Greenstone Belt which is part of the Zimbabwe Craton, a prolific area for gold production that has produced over 77 million ounces of gold historically.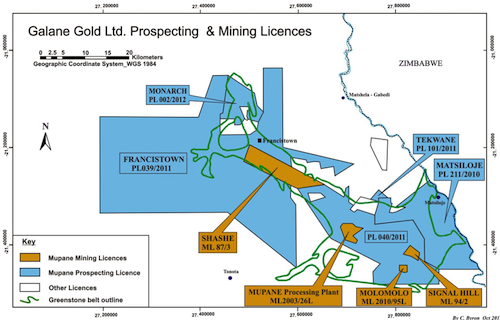 Mupane Gold Plant

The Mupane Gold Plant has a conventional open-pit mining operation with mill and carbon-in-leach processing, with a nameplate processing capacity of 1.2 million tonnes-per-annum of oxide ore and 1.0 million tonnes per annum of sulphide ore. It is currently producing approximately 50,000 ounces of gold per annum.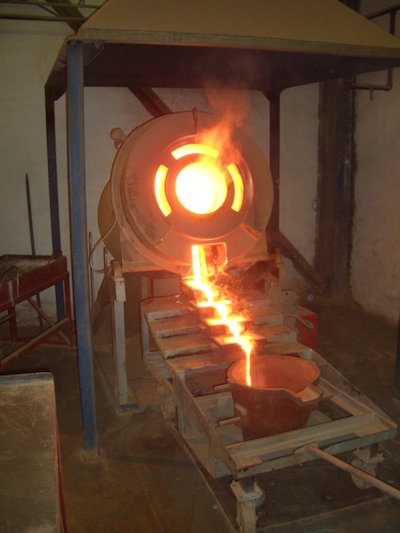 Since January 2005, Mupane Gold Mining Pty Botswana has operated a conventional open-pit mining operating with mill and carbon-in-leach processing. It is located roughly 30 km east of Francistown in Northern Botswana, and was acquired from IAMGOLD in July 2011.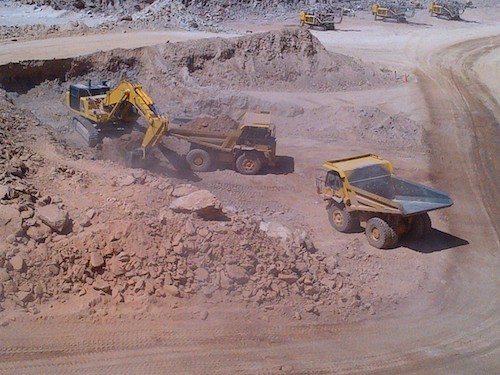 The mine has a production forecast of 50,000 ounces per annum at roughly $1,100 per ounce all-in cost on a five year plan, in consideration of operating costs, capital expenditures and exploration royalties. The project currently has a mine life of 5+ years, with the opportunity to be significantly extended.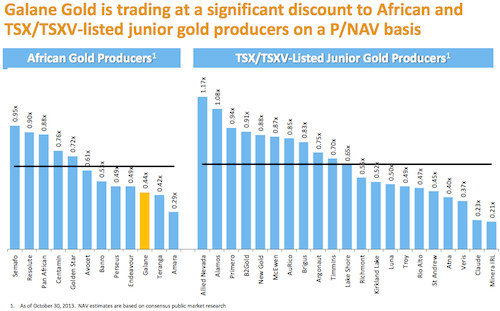 Tau Deeps
To increase value for investors through low risk expansion, Galane is currently pursuing underground operations at the previously mined Tau pit. Mining commenced at Tau Deeps in mid-2014, with Galane announcing the first ore mined from the operation in May 2014. On current resources, Galane expects to mine 1 million tonnes of ore at an average grade of 2.6 grams per ton of gold by 2018. Drilling results at the previously mined Tau pit included a 53 meter intersection averaging 4.55 grams per ton of gold including 24 meters at 6.57 grams per ton of gold and 15 meters of 5.86 grams per ton of gold.
Tawana – Tau Extension
As part of the underground mine plan for the Tau pit, Galane intends to put a vent through the floor of the Tawana pit, adjacent to the project. The company will expand the current open pit at Tawana in order to provide additional ore for its processing plant in 2014.
Golden Eagle
Since 2012 when mining began at the Golden Eagle site, Galane has mined 304,000 tonnes at an average grade of 1.44 grams per tonne.
Galane completed a revised mine design for the project, and recommenced mining in early 2014. On the current resource, the company is expecting to mine almost 1 million tonnes of ore at an average grade of 1.71 grams per tonne by the end of 2015. Notably, the project has a favourable stripping ratio of 5.6.
Screening Low Grade Stockpiles 
Historical operations have resulted in a low grade stockpile of 702,000 tonnes of ore at an average grade of 0.92 grams per tonne. There are also low grade stockpiles located near other historic properties, such as signal hill.
Galane has carried out a screening exercise on the material using a PC300 excavator with a 100 mm screening bucket and two sampling screens at 40 mm and 30 mm. A screening plant has been acquired at minimal cost and is in the process of being transported to the site.
Tailings Dumps on the Tati Greenstone Belt 
Galane has completed testing and surveying work as part of its exploration project, and is currently planning to process 643,000 tonnes of tailings dumps at an average grade of 0.97 grams per tonne. The greater part of this material will come from the Monarch Slimes Dam. Processing from Map Nora, which was 60,000 tonnes at 1.4 grams per tonne, achieved recoveries of more than 70 percent.
Tholo
As with Tau, the Tholo mine is located adjacent to the processing plant. As of March 31, 2014, Tholo features 247,000 tonnes of ore still to be mined with an average grade of 1.82 grams per tonne and a low stripping ratio of 2. The project is expected to contribute 12,000 ounces of gold to Galane's third quarter production for 2014, including a plan to extend the mine life and increase ounces by redesigning access ramps.
Tekwane
The Tekwane mining tenement features an Indicated resource of 12,735 ounces and an Inferred resource of 11,443 ounces established in the rubble horizon within the soil bed of the property. The permitting process has commenced for the property, and Galane expects that processing will be conducted with a gravity circuit either in conjunction with the current carbon in leach plant or on a stand-alone basis. The project has a forecast direct cash cost of $315-375 per ounce.
Jim's Luck
The Jim's Luck project features an 830 meter strike averaging 6.01 meters at 1.87 grams per tonne of gold including a core of 3.18 meters at 2.77 grams per ton of gold. Galane has completed an initial mine design for Jim's Luck and has commenced pit optimization. The conceptual mine plan has the potential for 680,000 tonnes of ore at an average grade of 2.16 grams per tonne at a strip ratio of 5.5. Exploration suggests a further 10 kilometer strike.
Kwena
Historical mining has been carried out at Kwena by IAMGOLD, and recent increases in the gold price have allowed for the mining of additional resources. Currently, a new mine plan is under review which includes 700,000 tonnes of ore with a grade of 1.77 grams per ton of gold, or 32,085 ounces, at a stripping ratio of 6.2. Conceptual planning to mine underground has begun, with the most likely avenue for the project to be realized being as an extension of the Tau underground mine.
Map Nora
The Map Nora project features existing infrastructure, including an underground shaft, headgear and winder, all in place and in good order to a vertical depth of 340 meters. Although non-NI 43-101 compliant, historical exploration to support operations has provided sufficient detail to Galane for the company to commence mining while producing a technical report including an NI 43-101 compliant resource.
Summary
As an unhedged gold producer and explorer with a strong balance sheet and low production costs, Galane Gold remains poised to take advantage of any improvements in the gold market. The company is shifting from open pit to underground mining operations at its Tau property to maximize the resource, having mined the first ore from its Tau Underground operations in May 2014. Galane is also actively working to further expand and improve the resource at Tau, and its substantial portfolio of additional mines, mining tenements and exploration properties give the company a significant upside.
Galane's experienced management team, which includes seasoned financier and venture capitalist Ravi Sood, is also pursuing low risk expansion by exploring areas featuring known and in some cases previously mined deposits with existing production infrastructure in place. The company aims to constantly optimize its administrative, mining and processing operations to reduce costs and maximize value for its shareholders.
Management
Nick Brodie – Chief Executive Officer
Mr. Brodie has served as Chief Financial Officer of the Company since October, 2010.  Prior to joining the Company, Mr. Brodie distinguished himself in progressively more senior management positions in a number of industries. After working in CFO roles in mining for the last eight years, he has gained the breadth of experience required to make the next progressive step to CEO. Mr. Brodie has also been appointed to the Board of Directors.
Wayne Hatton-Jones – Chief Operating Officer
Mr. Hatton-Jones has held a number of senior management positions in the mining industry including with Gold Ridge Mining, Avocet Mining Plc, Randgold and Harmony. The appointment as Chief Operating Officer reflects Mr. Hatton-Jones' key role in managing the Company's operations and developing its strategic direction.
Stephen Doolan – Interim Chief Financial Officer
Mr. Doolan holds a Bachelor's degree in Business with a specialisation in accounting and has held progressively senior finance roles in a number of mining companies globally including Gold Ridge Mining, Rio Tinto plc, Glencore, and Newmont.
Ravi Sood – Chairman
Ravi Sood is a financier and venture capitalist. Mr. Sood is the founder and former CEO of Navina Asset Management, a Toronto-based investment firm that was acquired by a major financial institution. Mr. Sood has also founded several natural resources based businesses including Feronia Inc., one of Africa's largest emloyers, where he serves as Chairman. Mr. Sood is also a director of Elgin Mining Inc. and TrueContext Mobile Solutions Corp. Mr. Sood holds a B.Mathematics(Hons) degree from the University of Waterloo.
Charles Byron – Chief Geologist and Director
Charles Byron has over 30 years experience as a geologist focused on Archaen gold exploration and mining. Prior to joining Galane Gold as its Chief Geologist, Mr. Byron was with Phelps Dodge, Falconbridge, and later Gallery Gold where he led the team that discovered the Mupane Gold deposit and saw it into production in 2004. Mr. Byron holds a B.Sc. (Hons) Geology, Soils, Geography (University of Natal).
Wayne Hatton – Jones – General Manager
Wayne Hatton-Jones has 26 years experience working in South Africa, Mali West Africa, Tajikistan, Kazakstan, Romania and the Solomon Islands. Mr. Hatton-Jones served as the General Manager of the Gold Ridge Operation (Allied Gold) in the Solomon Islands, the Chief Operating Officer of Galaxy Gold Mining Limited, Acting General Manager of Avocet Mining plc in Tajikistan, General Manager of Ergo gold surface retreatment operation at DRD Gold, Process Manager and Acting General Manager of Randgold Resources and Metallurgical Manager for Harmony Gold mine. He holds a Bachelor of Science (BSc) degree from the University of the Witwatersrand, South Africa and a Management Development Diploma (MDP) from the University of South Africa.