The profile below is part of a campaign paid for by Blackheath Resources. This profile provides detailed information, helping investors make better investment decisions. Blackheath Resources' support of Tungsten Investing News ensures we can continue to bring you unbiased, independent news and information.
Overview
Blackheath Resources Inc. (TSXV:BHR) has an extensive portfolio of exploration and development stage tungsten projects that includes five of the top seven past-producing tungsten mines in Portugal. Portugal is a global leader in tungsten production and home to one of the world's largest tungsten mines: the Panasquiera Mine.
Blackheath Resources' main focus is advancing the Covas Tungsten Project in northern Portugal. Blackheath also has options for 100% interests in four other past-producing tungsten and tin projects in the region including Borralha, Bejanca, Vale Das Gatas and Adoria.
The March 2015 Resource Estimate on Covas includes 449,800 MTUs WO3 indicated mineral resource and 767,100 MTUs WO3 inferred mineral resource based on 2,211,000 tonnes at an average grade of 0.35% WO3.
Blackheath Resources' plans for 2015 at Covas include a drill program to further delineate resources and increase grades as well as scoping and engineering studies.
Investment Highlights
Mining-friendly jurisdiction of Portugal.
Portfolio of past-producing tungsten properties.
March 2015 Maiden Resource Estimate of 449,800 MTUs WO3 indicated mineral resource and 767,100 MTUs WO3 inferred mineral.
Borralha 2014 drill program results included assay intervals of 0.18% WO3 over 62 metres and 0.24% WO3 over 29 metres.
Work programs are underway or planned at all five properties.
Key Properties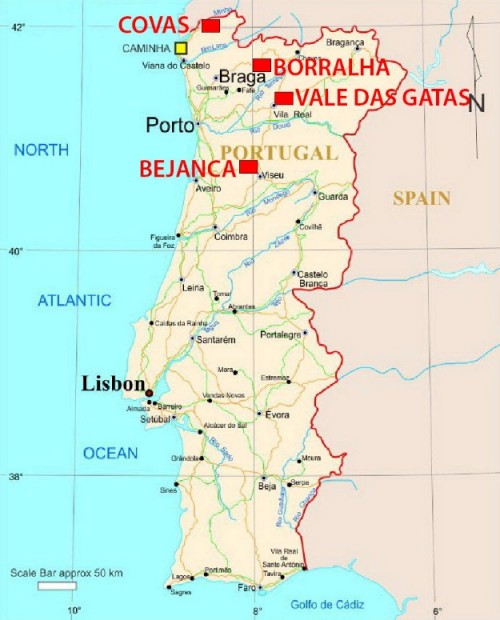 Covas Tungsten Project
The Covas Tungsten Project is located about 100 km north of the second largest city in Portugal (Porto) and covers 1,949 hectares that includes a past-producing mine and mill. The project consists of seven separate deposits in close proximity.
Existing infrastructure includes roads, power and water. Blackheath holds the option to earn an 85% interest in a joint venture on the project by incurring exploration expenditures of €2 million on the property. To date, the Company has earned a 75% interest in the property.
Historical production at Covas totaled 366,000 tonnes at 0.61% WO3 and was extracted between 1951 and 1974 via open pit and shallow underground operations. Exploration work between 1974 and 1980 led to an (non 43-101 compliant) indicated historic resource of 690,000 tonnes at 0.86% WO3 and an inferred historic resource of 233,000 tonnes at 0.56% WO3.
Since 2011, Blackheath has carried out exploration at Covas including diamond drilling, trenching, mapping, geophysics and sampling. Work focused on the Skarn Ring (which contains the historic resource) including geochemical and geophysical surveys and assessment indicating the potential for a deeper intrusion target.
In February 2015, Blackheath Resources announced the completion of a diamond drill program totaling 1,337 metres in 17 holes drilled in 6 different target areas: Lapa Grande, Muito Seco, Boundary, Castelo, Valdarcas and Telheira North.
2015 Resource Estimate
On March 31, 2015, Blackheath Resources announced the completion of a NI 43-101 compliant Technical Report on the Covus property which includes 46 diamond drill holes completed since 2012 and 326 historic drill holes. The report includes a Resource Estimate of:
449,800 MTUs WO3 indicated mineral resource based on 1,081,000 tonnes at an average grade of 0.42% WO3; and
767,100 MTUs WO3 inferred mineral resource based on 2,211,000 tonnes at an average grade of 0.35% WO3.
The 2015 Resource Estimate represents a substantial increase in MTUs over the historical estimates.
Upcoming Catalysts for Covas
More than 80% of the resource exists within 60 metres of the surface. With less than the 40% of the skarn explored, mineralization remains open in several directions including high-grade potential area.
Blackheath Resources plans to complete another drill program in 2015 focused on growing resources and increasing grades. Scoping and engineering studies are also planned this year.
"This maiden resource is a great milestone for the Company and our shareholders and we look forward to moving the Covas Tungsten Project towards our ultimate goal of production," stated James Robertson, CEO of Blackheath Resources.
Borralha Tungsten Project
The Borralha Tungsten Project is located about 70 km east of Braga and covers 127.5 square km. Operating between 1904 and 1985, Borralha was once Portugal's largest producing tungsten mine with an estimated total output of 18,500 tonnes. Blackheath has an option agreement to earn a 100% interest in the property.
Blackheath reported results from its diamond drilling program in the breccia zone and 2 holes outside the breccia.
Highlights of the program included:
118 metre intersection in BO 8A assaying 0.29% WO3 (57m to 175m) and including 91 metre intersection assaying 0.31% WO3 (84m to 175m)
One of the best tungsten drill results ever reported from surface
5 of the 6 drill holes ended within the boundaries of the breccia
A higher grade zone located in the centre of the breccia is open to the north and south and at depth to the east
Early indications show that the mineralized breccia may be at least 575 metres in length, over 150 metres in width and open to depth of over 200m from surface
Blackheath CEO, James Robertson, said: "The latest results provide confirmation of the project's potential to host a significant tungsten deposit. We are particularly excited by the size and scope of Borralha and we very much look forward to proving the merits of the project with continued drilling and detailed engineering work."
Bejanca Tin/Tungsten Project
The Bejanca Tin/Tungsten Project is located 55 km southeast of Porto and covers 8,900 hectares accessible by paved road. Production at Bejanca lasted from the early 1900s until 1985 from several shallow open pits and shallow underground workings. Blackheath has an option agreement to earn a 100% interest in the property (see December 12, 2012 news release).
In 2013, Blackheath Resources conducted mapping and sampling work with grab samples taken from various targets. Preliminary results included 2.12% WO3 at Vale da Fonte, 1.68% WO3 at Mina de Masgalos, 1.00% WO3 at Mina da Bodiosa and 0.85% WO3 at Mina de Vale Gouro (see November 20, 2013 news release).
Blackheath Resources is planning a future sampling program to re-assess the alluvial and eluvial material at Bejanca and to further explore the hardrock and vein potential for both tungsten and tin.
Vale das Gatas Tungsten Project
The Vale das Gatas Tungsten Project is located 60 km northeast of Porto and covers 21,300 hectares. The property includes the Vale das Gatas mine, once the second largest tungsten mine in Portugal, which produced up to 635 tonnes of tungsten concentrate (0.35% WO3 per tonne) annually prior to its closure in 1986. Blackheath has an option agreement to earn a 100% interest in the property.
Highlights from the work program in 2015 include an underground sample of stockwork totalling 11 metres averaging 2.09% WO3 (tungsten trioxide).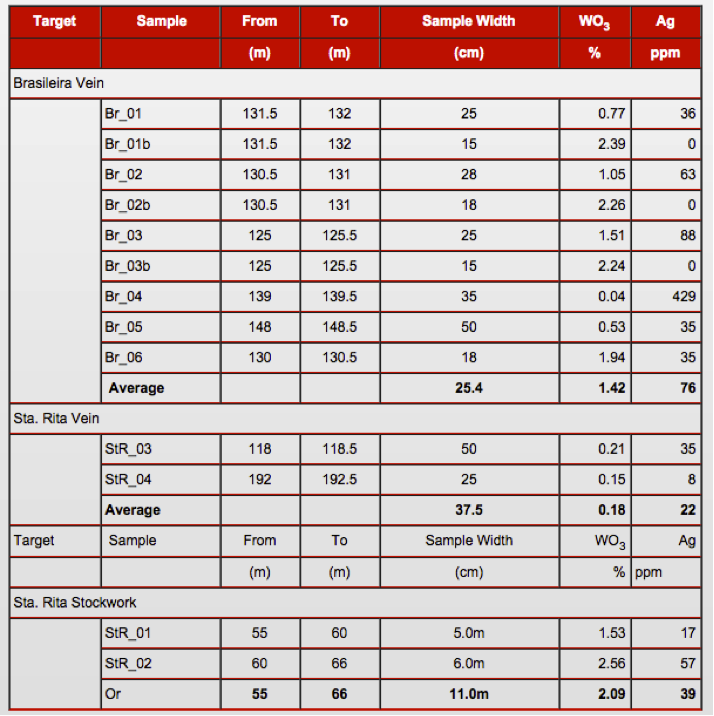 Multiple, closely-spaced mineralized veins have been identified at the Prainelas Sector, and a drill program of five diamond drill holes is planned to test the potential for bulk mining.
During the most recent work program at Vale das Gatas, Blackheath reviewed a historical mining reserve estimate reported by the Ministry of Industry and Energy of the Government of Portugal in 1991, which included detailed historical resource blocks originally described as of both proven and probable mineralization.
In the area between Mine A and Rebolais, historical "Reserves" containing tungsten, tin and silver were described in 1991: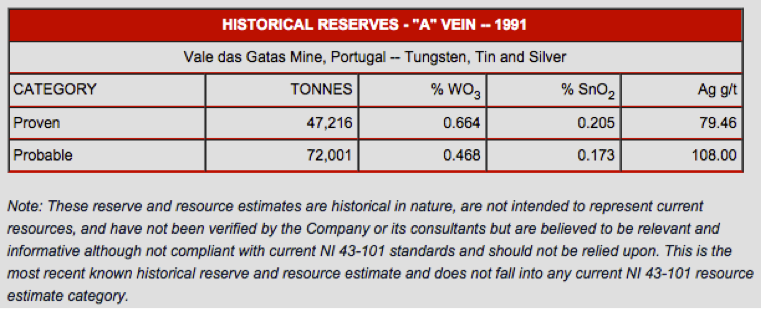 Adoria Tungsten/Tin Project
The Adoria Tungsten/Tin Project is located 90 km northeast of Porto and covers 12,750 hectares. The Adoria mines were significant sources of tungsten producer between 1906 and 1972. Vein structures in the region are similar to those at Panasqueira.
Blackheath Resources has an option agreement to earn a 100% interest in the property. Exploration work in 2014 included mapping and sampling; the results are currently under review.
Management
James Robertson, B.SC., P.Eng. – CEO, and Director
Mr. Robertson holds a B.Sc. in Metallurgy from the University of Nottingham and is a Professional Engineer in the Province of British Columbia. He has been actively involved in the mining industry and public resource companies for over 40 years and founded several companies, two of which graduated to full listings on the London Stock Exchange. Mr. Robertson is the principal and owner of Midas Management Inc., a private management company that provides services to junior resource companies seeking public listing and financing and to established companies in maintaining their corporate obligations. He was a founding director and Vancouver manager of Primary Metals Inc., a TSX Venture Exchange-listed company owning the operating Panasqueira tungsten mine in Portugal before its sale in 2007 to a subsidiary of the major Japanese conglomerate, Sojitz Inc.
Kerry Spong – Secretary, CFO, and Director
Mr. Spong is a self-employed accountant with over 20 years' experience in accounting practice for private and public resource companies. He was a director and CFO for Primary Metals Inc., a TSX Venture Exchange-listed company owning a Portuguese tungsten producer, from October 2004 to October 2007 and is currently CFO for other junior public companies.
Alexander Langer – President
Mr. Langer has over nine years of experience in corporate development and capital markets in the resource sector. Mr. Langer started his career as an Investment Advisor with Canaccord Wealth Management. Most recently, Mr. Langer was Vice President Capital Markets for a TSX listed exploration company and has worked with numerous publically traded companies in various senior management positions including: Corporate Development, Investor Relations, Corporate Communications and Marketing. To date, Mr. Langer has helped raise over $200 million for junior and mid-sized resource companies through various means of financing including: equity, debt, royalty, off-take, and bond agreements.
Jonathan Carter – Director
Mr. Carter is a businessman with over 35 years of experience in marketing and metal sales with particular experience in tungsten. He was previously employed by Minorco plc and Waller Metals Inc. as Sales Manager with particular reference to the sale and trading of tungsten concentrates and products. He was President and a director of Primary Metals Inc., a TSX Venture-listed company owning the operating Panasqueira tungsten mine in Portugal before its sale in 2007 to a subsidiary of the major Japanese conglomerate, Sojitz Inc.
J. Merfyn Roberts, B.SC., M.SC., CA – Director
Mr. Roberts has over 30 years of experience in fund and portfolio management. Until recently, he was a Senior Portfolio Manager with CQS Management of London, United Kingdom. He is a member of the Institute of Chartered Accountants of England and Wales and holds a Bachelor's degree in Geology from the University of Liverpool and a Master's degree in Geochemistry from the University of Oxford. Mr. Roberts currently serves as a director of Toronto Stock Exchange-listed companies Agnico-Eagle Mines Ltd., and Eastern Platinum Limited, and of other TSX Venture Exchange-listed companies.